Smug Syncback: Sync title, captions and keywords between Lightroom<->SmugMug with visual review
wezzix
Registered Users
Posts: 5
Big grins
Smug Syncback is a Lightroom plugin that will sync any photo title, caption and keywords edited online on SmugMug back into Lightroom or vice versa while staying in full control of exactly what gets synced for each photo.
Announcing a new release of Smug Syncback, plugin for Lightroom. Current version: 2019-03-07 Version 1.4
Who needs it?
Here is your typical workflow:
You publish your photos to SmugMug using the official SmugMug plugin for Lightroom.
You edit your captions and keywords on your online SmugMug page in their context, with browser spell check (or using the app of your choice).
You use Smug Syncback to copy the edited titles, captions and keywords back into Lightroom so that they are in sync. You have total control over exactly which titles, captions and keywords that will be updated in Lightroom as well as SmugMug for each of your photos.
In a real life situation, perhaps you forgot to publish the latest changes in LR, or perhaps you made conflicting changes to keywords in LR and captions in SM. Would you trust a plugin which only keeps the most recent side? Smug Syncback lets you review all changes before they occur, and lets you be in control of the conflicting ones.
Doesn't SmugMug sync title and keywords already?
Yes. But official SmugMug plugin will only keep the most recent side. If you have made conflicting edits on both sides, one of the edits will get overwritten.
Smug Syncback lets you review changes before committing and resolve conflicts in a clear dialog, taking the uncertainty out of the equation.
How does it work?
Check out the plugin homepage for download, screen shots and full instructions. Here is a preview of what you'll get:
Synchronize titles and captions from SmugMug to Lightroom
Pick which data you want to use. It doesn't have to be the most recent edit. Here you can also make edits before committing. The result will be saved to both LR and SM.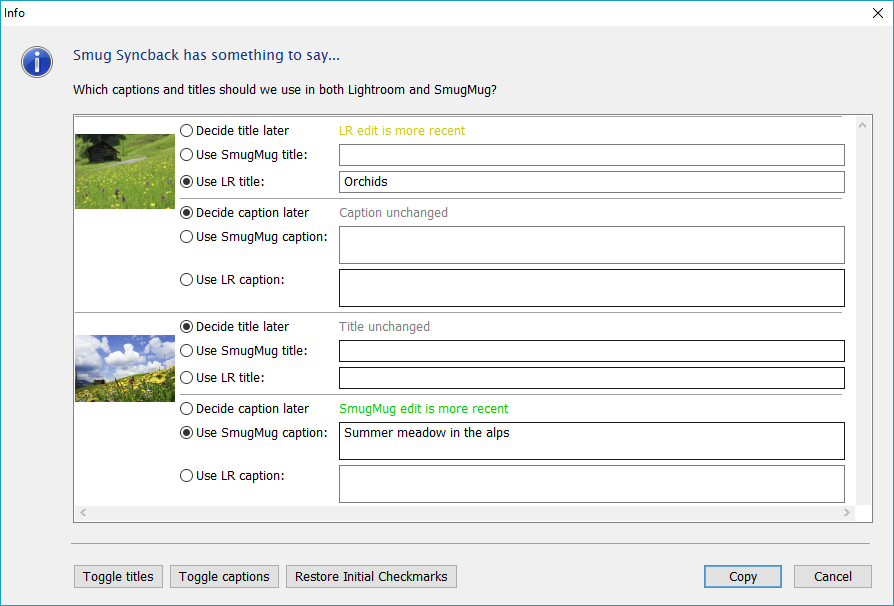 Synchronize keywords from SmugMug to Lightroom
You can select multiple galleries or folders to work efficiently.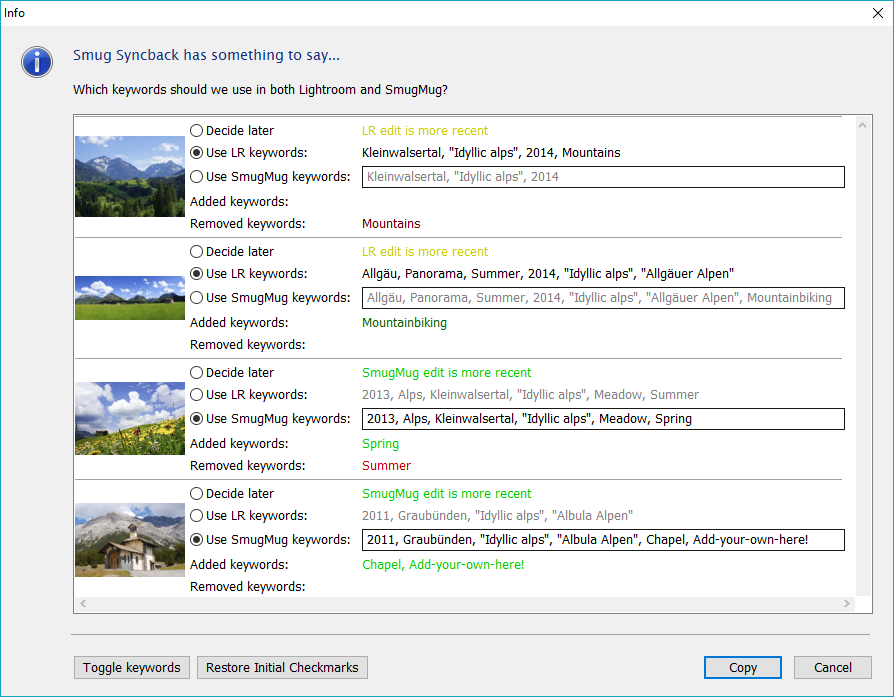 Cost?
I've released it for free. However, please donate if it makes your life easier.
Questions, Comments, Issues?
Post here or email me and I'll try to help.
Release notes
Version 1.4 (3/7/2019)
Smug Syncback Release notes
Update notice:
Please ensure "Check for updates upon startup" is enabled in Plugin Manager and update when neccessary.
2019-03-07 Version 1.4
Fix: It is now possible to sync 5000 changed photos shown in the interactive dialog without crashing LR. Changes are divided in pages of up to 200 photos in each and the changes are committed after the last page.
API errors due to overloaded servers pause the sync operation letting you retry or abort.
Any other API error during sync is displayed in a warning dialog and the operation is aborted.
API error 401 Unauthorized has a very clear explanation of cause and remedy.
API error 401 Unauthorized no longer automatically forgets credentials.
2018-03-31 Version 1.3 Beta
Fix: Removed apparent sync limit of 100 photos per gallery. Maximum is now 5000. A very large number of photos or changes may however slow down your computer or even crash LR during sync.
2017-04-06 Version 1.2 Beta
Fix: Keyword sync handles many more non-alphanumeric characters that differ between LR and SmugMug, such as "/".
2017-04-06 Version 1.1 Beta
Feature: Bulk edit galleries. Opens selected SmugMug galleries and folders in bulk edit mode, where you can edit their Name, Url, Keywords and Description in an efficient manner with little delay. See File > Plugin Extras > Edit selected galleries.
2017-04-04 Version 1.0 Beta
Feature: Keyword sync, much anticipated. Syncs added or removed keywords from SmugMug to LR (or the other way). A dialog gives you a preview and perfect control of the sync actions. See File, Plugin Extras, Synchronize keywords.
Feature: Added "Synchronize all" command which syncs title, captions and keywords from SmugMug to Lightroom in one go.
2016-01-15 Version 0.6 Beta
Removed version popup for Lightroom 6
2014-11-21 Version 0.5 Beta
First public beta released.
Feature: Update check in plugin manager.
Feature: Option to automatically check for updates on startup.
2014-08-18 Version 0.4 Beta (private)
Feature: Synchronise title along with caption from SmugMug photos back into Lightroom.
2014-06-05 Version 0.3 Beta (private)
Feature: Synchronise caption from SmugMug photos back into Lightroom including a dialog showing all pending changes.
2014-05-20 Version 0.2 Beta (private)
Feature: Authorize and Deauthorize the plugin with your SmugMug account.
More info can be found on the plugin homepage: http://www.markuskvist.se/LightroomPlugins/SmugSyncback