Wild West Tour 2019, Part 1

sarasphotos
Registered Users
Posts: 3,650
Major grins
Ok folks, here it goes... Two weeks ago today we got back from our month-long trip to the American Southwest (plus California). I'm a native Californian and although I haven't lived there since 1977 I've visited many times and have family and friends scattered all over. My partner is German and had never visited the west coast so for him everything was new, including driving in the USA. (I had to explain several driving practices, like how to proceed at a 4-way stop and that a right turn on a red light is allowed - and no need to worry that someone will come speeding up out of nowhere behind you driving 120MPH.)
The impressions were so grandiose that we are still digesting them all. And needless to say the photos and videos aren't all edited. We both wished we'd planned at least one more week, better two, in order to spend more time at various places and get more rest between the long stretches of driving, but we survived - over 2500 miles in a 19' RV and two rental cars.
Visiting in April/May had several pluses - California was greener than I've ever experienced it and the wildflowers were in bloom along practically every bit of road we traveled, including parts of Death Valley. Another plus was perhaps slightly smaller crowds at several of the big parks (although I can't imagine how crowded the Grand Canyon or Yosemite are in summer. Ugh.). On the negative side we did opt out of visiting a couple of places because of the tourist rush - we took one look at the overfilled parking lot at Horseshoe Bend and thought "nope, not our thing" and drove on by.
I realized in the first couple of days of the trip that I was not going to get/was not interested in getting that "iconic" photo of every famous location. What I ended up with is a set of pictures that present a pretty honest picture of how it was. They're pretty much all what I call "drive by" shots - if we were in the car I often shot through the windshield or side window - if we'd stopped for every photo we would still be somewhere on Highway 1 (I couldn't get rid of all of the bug spots...); or the pictures were simply taken during our day's explorations, whatever the given light conditions were. I took a tripod and used it a grand total of twice. I switched to my macro lens once or twice but mostly shot with my trusty Panasonic 14-140 (28-280) zoom on my Lumix G85/81.
We landed in San Francisco and picked up our rental car and drove to the East Bay where we spent a couple of nights with cousins of mine.
1) Naturally the first outing was to San Francisco where I did my best to show my partner (let's just call him "W") some of the sights.

2) On the second day we picked up our RV and spent our first night at Sunset State Beach, meeting another set of cousins of mine for dinner in Watsonville. In the morning we took a walk along the beach, where W got his first sight of the Pacific.

3) My Watsonville cousins have an annual pass to the Monterey Aquarium so we spent a couple of hours (much too short) there.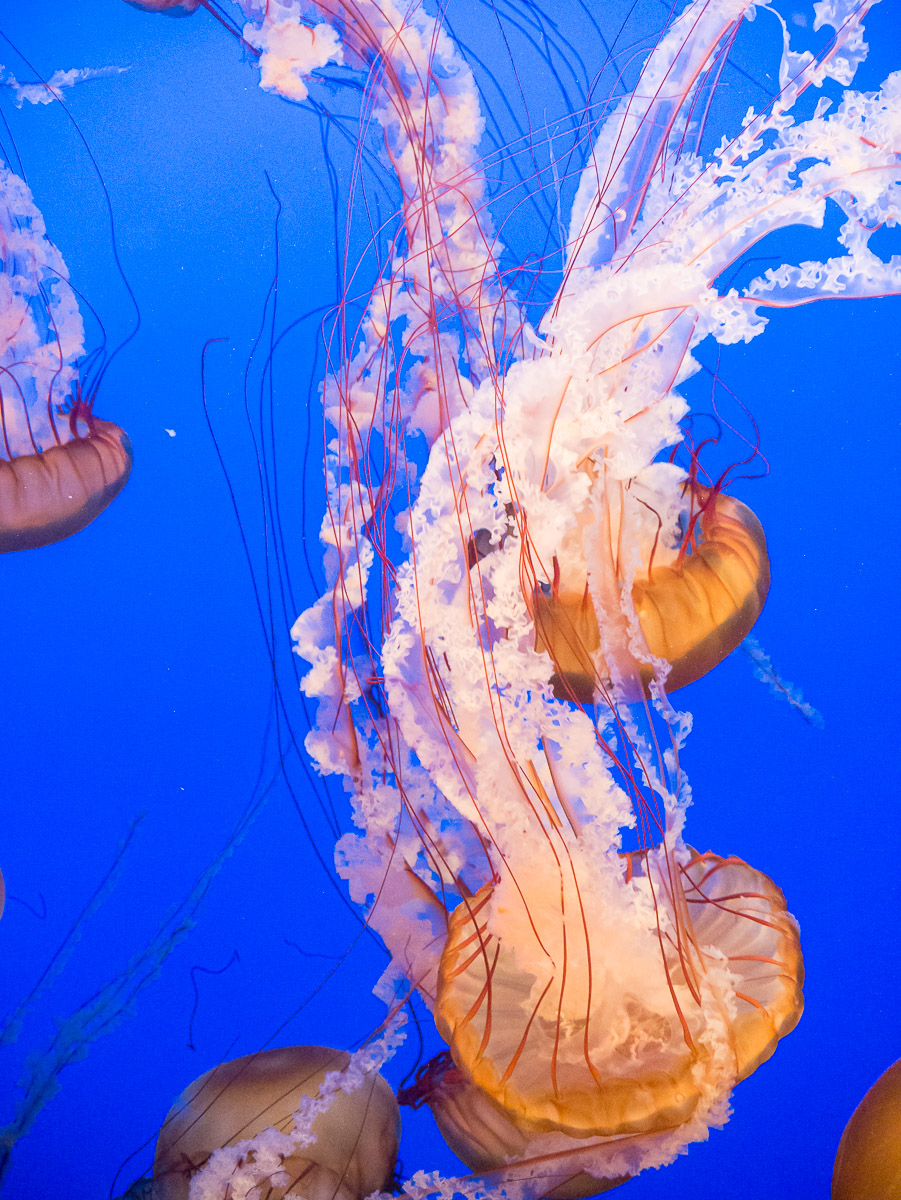 4) And no west coast experience would be complete without a drive down Highway 1

5) That night was spent at San Simeon State Park where we caught the sunset on the beach

6) The following day took us through the costal hills towards Paso Robles (my father's birthplace and home to many fine wineries
). I could not believe how GREEN it was.

7) On the 5th day was our longest drive, from Paso Robles to Joshua Tree. Not exactly thrilling scenery for much of the way and much of it was very familiar to me from childhood trips between the Central Valley and Redlands. But on Hwy 138 on the way to Lancaster the sight was amazing - brilliant orange poppies as far as the eye could see.

8) We spent the night in Joshua Tree National Park and W marveled at the desert scenery - there's nothing like this in central Europe.

9) We took a leisurely drive throught the park.

10) "Next services 100 miles" W couldn't believe me that there really, truly wouldn't be a gas station (or anything else, for that matter) for 100 miles. (sorry for the bug spots)

11) Cholla blossoms at Cattail Cove State Park on Lake Havasu. A lovely nature trail!

12) After a night in Prescott, AZ at an old friend's house we headed for the Grand Canyon, where we spent three nights

13) From the South Rim Trail

14) W was in awe of the many long and straight roads that seemed to stretch into infinity

15) We both were impressed by the other-worldly landscape of Lake Powell

16) On the way to Bryce Canyon the desert took on different characteristics

17) April showers

18) The Virgin River meanders along Hwy 89

19) Bryce Canyon bowled us both over

20)

21)

End of Part 1