HTML Button over photo help!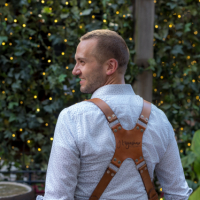 jbriginshawphoto
Registered Users
Posts: 34
Big grins
I am making progress in my HTML learning, but I am stumped on this one. I have attached two photos, the first is what I want it to look like (and it does when I am editing). The second is what happens when I click publish. The button does not actually sit over the birch tress as I would like it to. Also, it does not link to my contact page as I would like it to. Here is what I have:
Planning a Wedding? Let's Chat!
CSS:
img {
opacity: 0.4;
}

.container .btn {
position: absolute;
top: 50%;
left: 50%;
transform: translate(-50%, -50%);
-ms-transform: translate(-50%, -50%);
background-color: #640000;
color: white;
font-size: 22px;
padding: 20px 35px;
border: none;
cursor: pointer;
border-radius: 5px;
}
.container .btn:hover {
background-color: black;
}