BlacK & Gold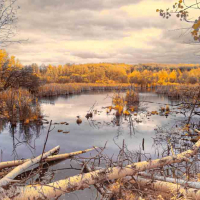 El Gato
Global Trekker
Registered Users
Posts: 1,175
Major grins
Walking down a quiet alleyway, I stumbled upon this quaint, sunken (below ground level), tiny garden/outdoor courtyard seating area. It was empty and wonderfully quiet. The tables and chairs were covered in scattered leaves, the ground completely covered in these beautiful golden leaves.
From my elevated perspective it appeared as if the leaves had been sprayed onto a canvas-like background. The black tables and chairs stood out even more distinctly.
I decided against a wide view of the courtyard, instead focusing on just this pair of tables and chairs.
To me, it conveyed visually, the essence of this peaceful courtyard, and the undisturbed silence of fall.