Bangladesh - Chittagong Ship-breaking yards
Chittagong is the second biggest city in Bangladesh after Dhaka with a population of approximately 4 million people. It is very infamous for it's ship-breaking industry, which occupies a long stretch of beach around 15-20 kilometers north of the city. I have heard a lot about it before I came to Bangladesh, and decided that this was something that I had to see. Because of the negative press that the industry received and continues to receive from environmental organizations such as Greenpeace, it is very difficult for foreigners to visit the area and almost impossible to take photos. Knowing this, I decided to ask a couple of young guys working in the hotel where I was staying if they knew the area, and if it was possible to visit. One of them told me how to find it, and I asked him to come with me and be my translator. He agreed to come with me for a few hours the next morning before his started his shift at the hotel. I hired an auto rickshaw for the 40 kilometer round trip the next morning and off we went.
The first couple of ship-breaking yards we went to completely refused to let me anywhere near their work area, not to mention the beach where the ships were. I had to wait with a bunch of people closely watching me while my translator tried to convince the person in charge that all I wanted to do was walk around for a few minutes. Eventually we were able to find a place that allowed me to walk around the beach, and even allowed me to take photos but only of the ships. I was very happy that I was finally allowed in, and walked through a (de) construction site and some buildings towards the beach. Coming around a corrugated metal shack, I saw the beach......wow! I had seen some photos before, but nothing prepared me for this sight. In front of me, on the stretch of beach, were at least 10 tankers and cargo ships all beached waiting to be torn down by an army of workers using nothing more then blowtorches. In addition, there were quite a few pieces of other ships in various states of deconstruction. Chimneys, anchors, rescue boats, pieces of hulls, propellers, boilers and other parts littered the beach as far as I could see.
I started to take some photos of the ships, and decided to try to walk everywhere, to the ships, the yards, etc. Pretty soon I found out that I was very unwelcome in the main work area where most of the hard work took place. The ships are cut into small but still very large pieces out on the beach, they are then dragged inland by a wench where workers set upon them with blowtorches reducing them to smaller pieces of scrap metal. The metal is then loaded by a huge electro-magnet equipped crane onto trucks and taken off the site. I'm not sure where the steel from ships goes, I would imagine that whatever doesn't get used up in manufacturing in Bangladesh probably gets sold to India rather then China since shipping it there is quite cheap from the Chittagong port. I quickly took a couple of photos of the workers, who were extremely surprised to see me, when their boss started angrily yelling at me in Bangla. I apologized, immediately put my camera down and motioned towards the ships stuck in the low-tide sea as I stared walking towards them. That seemed to be good enough and he went back to whatever he was doing.
I walked out to the biggest ship being dismantled to see how it worked. Despite the people in charge being somewhat hostile towards me, all of the workers were very friendly. They were genuinely surprised to see me there, and wanted to come over and say hello. This got them in trouble with their foreman a couple of times, who ordered them to get back to work.
I decided to do a little bit of research about the ship breaking industry, the one in Bangladesh in particular. One of the ships, the one in the best condition (probably since the workers did not yet start taking it apart), still had a name "United Endurance". I was curious about the history of the ship, where it came from, what it did and who owned it. I could see it was a tanker, so I started searching a bit on the internet. This is what I found in various market reports and industry newsletters:
Shipbreaking in Bangladesh & the United Endurance
There has been a significant increase in prices of ship demolitions. This is probably due to the increasingly growing global demand for metal, and ships not only have a lot of it but the steel is generally of high quality. The prices for ship demolitions in Bangladesh went up from $440 per ton in 2006 to $590 in 2007. That's a huge increase for a single year. The volume of ship demolitioned between the big three countries (Bangladesh, India and Pakistan) declined from 310 in 2006 to 301 in 2007. Bangladesh remains the number one ship demolisher in the world (151 ships in 2007), followed by India and Pakistan. China ranks fourth
The United Endurance, a Aframax tanker, was built in Romania in 1989 (most likely at the Constanta shipyard). It was sold by the company Marine Management to a Bangladeshi company around July 2007. I could not find where United Endurance operated, but I did find that a company named Titan leased the ship in March 2007 for 15 days, at a price of $17,250 per day ($258,750). The United Endurance was officially registered in the country of Liberia, which did not surprise me. Liberia is the cheapest country in the world to register a ship, it costs anywhere from $2,500 to $11,900 to register a ship there. In addition, the tonnage tax is very low and there is no requirement to disclose who the actual owner of the ship is. This makes it possible for someone to create a front company to register the ship, that way the owner is not responsible or liable in case something goes wrong with or onboard the ship. The ship registration by the way, is one of Liberia's greatest sources of foreign income.
Out of curiosity, I wanted to find out how much a demolition yard pays for a ship like the United Endurance. As a non-stainless steel tanker, the United Endurance was bought for $560 per ton (other sources I found list the price at $563 or $565 per ton), which at 21,129 tons makes the price $11,832,240! Keep in mind that the owner of the shipyard expects to make a profit, so imagine the total value of the ship after paying all of the wages (probably around 100 Taka a day per person, or under $1.50) and transporting the scrap to wherever the market/buyer is. Building a new Aframax class tanker cost $40 million in 2003, but due to the huge global demand for ships and the price of metals it costs $65 million today!
As far as tanker ships go, Aframax class is relatively small. It is bigger then a Panamax ship (named so since it's the largest ship that can pass through the Panama canal) but smaller then a Suezmax (largest ship that can pass through the Suez canal). Even bigger is the VLCC or Malaccamax (largest ship that can pass through the straights of Malacca). The ULCC is the biggest class, a ship from this class would be 4 times bigger (in terms of tonnage) then the United Endurance!
Interestingly the top 10 prices per ton for ships were all in India. The record for the highest price ever paid was for the tankers Acrux and Padera, $1,180 per ton. The reason for the high price is that more then 10% of those high quality tankers is stainless steel. They are much smaller ships however, at 1,415 and 1,340 tons each.
I found out recently that the ship-breaking yards are so unique, that they were used as a setting for the "bad guy hangout" in Bangladeshi crime movies! What a great idea, I'll see if I can find some of these films.
Here are the photos
Unfortunately for the reasons stated above, I was not able to photograph many others parts of the beach or other interesting things that I saw, but I hope this gives you a good idea about how the ship-breaking process works
View of the beach, most of the individual work takes place behind where I am standing. The ships are rammed into the beach at maximum speed during high tide, then pulled a bit more inland. When the tide is low, the work begins.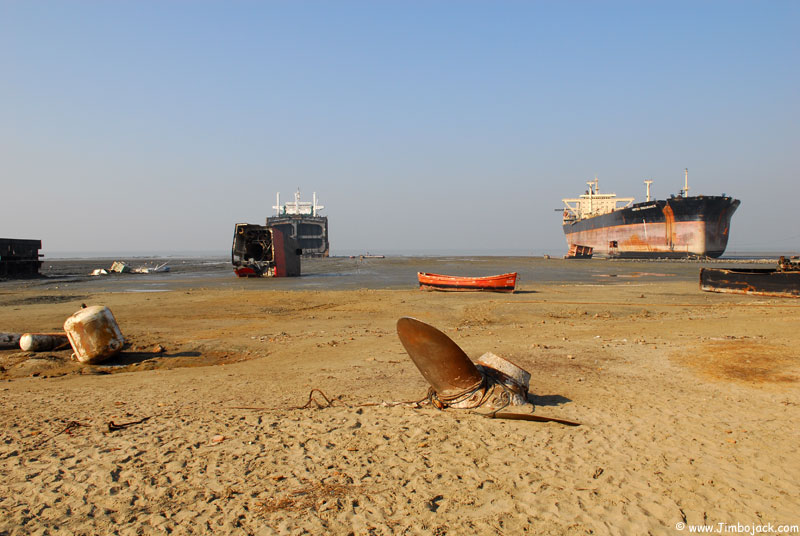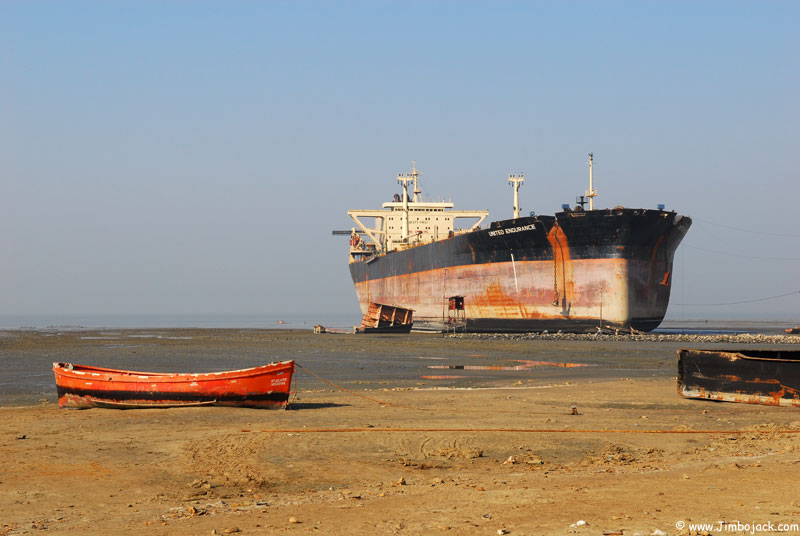 Ships in various states of deconstruction.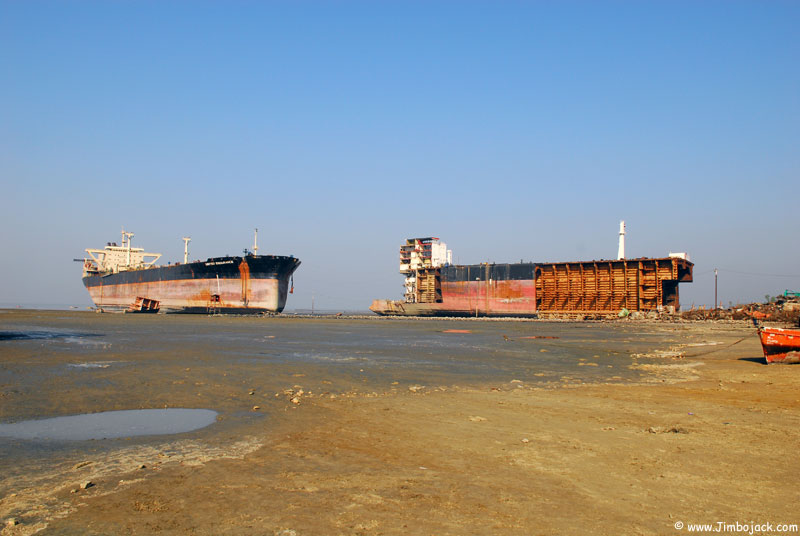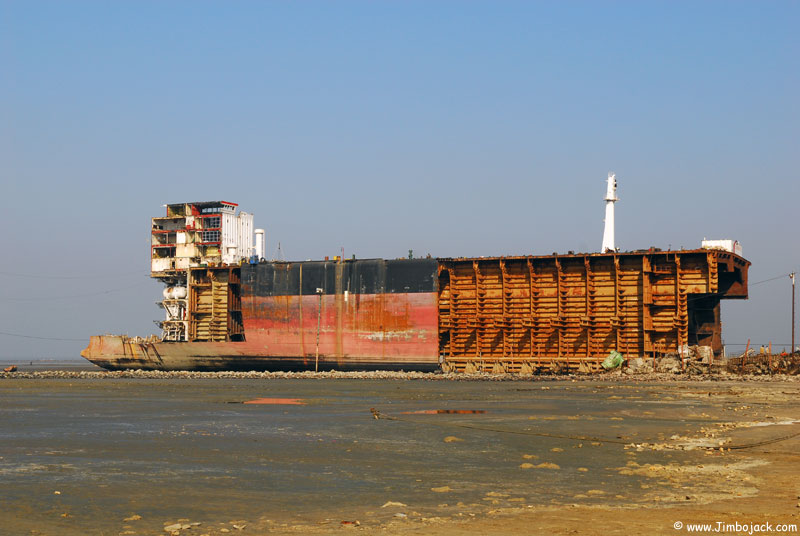 A few workers at the site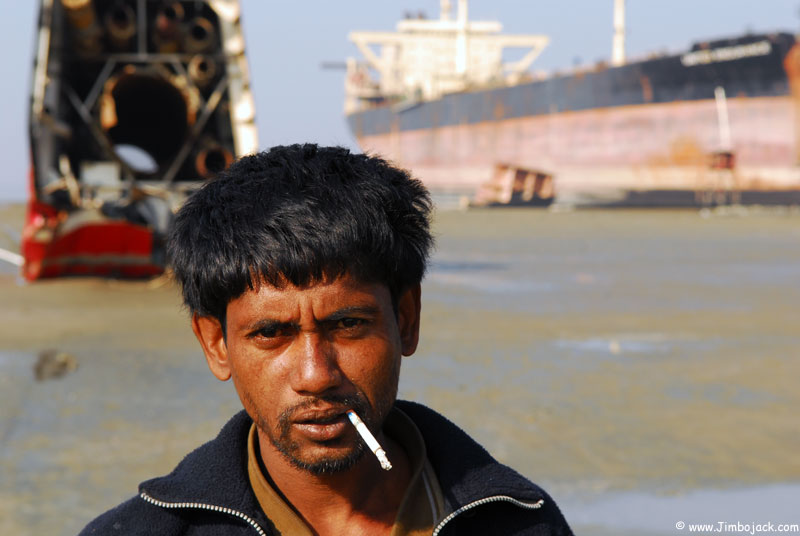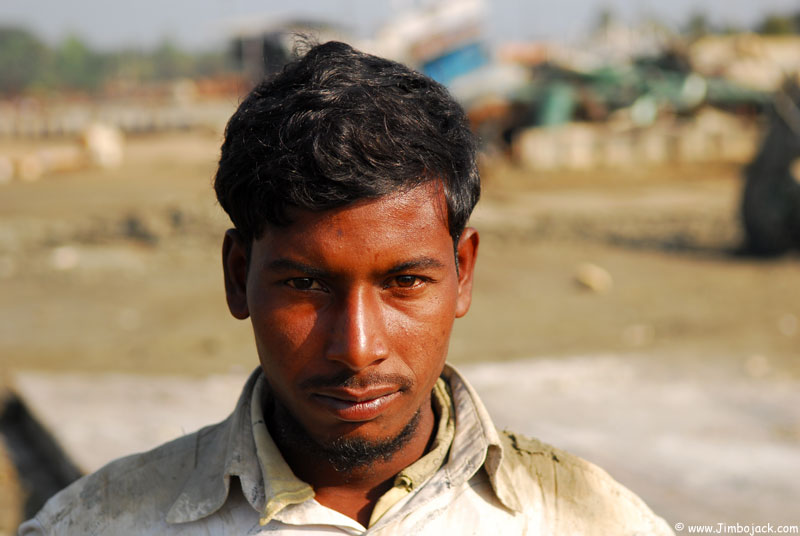 These are some of the photos I got yelled at for taking. Due to the very bad press about the negative environmental impact and hazardous working conditions, owners of these yards don't want anyone taking photos. Looking at the photo below, you can see the rear half of the ship sitting far out on the beach. Behind the workers are smaller pieces of the hull (faded red color) cut off from the ship and dragged closer to this area. The workers in front use blowtorches to cut these pieces in even smaller pieces which you can see on the left (one of the workers is sitting on one). Those pieces are loaded onto truck and taken away in an area behind me (I was not allowed to even come closer to that part).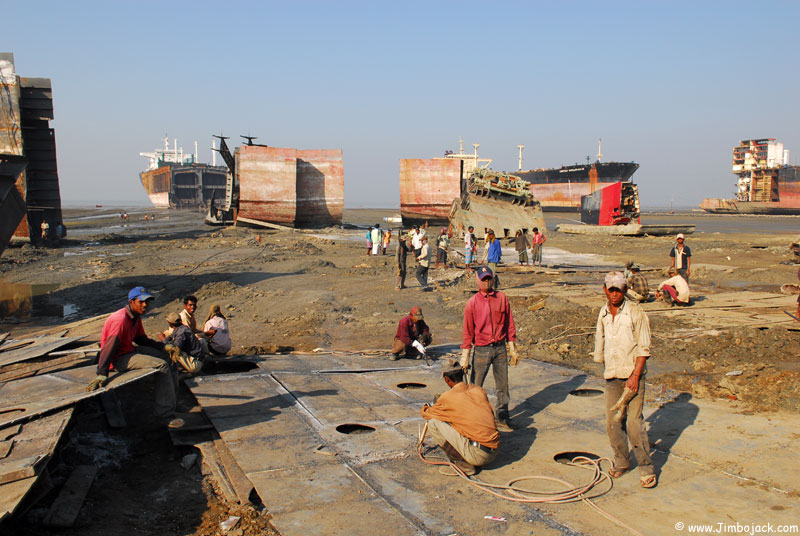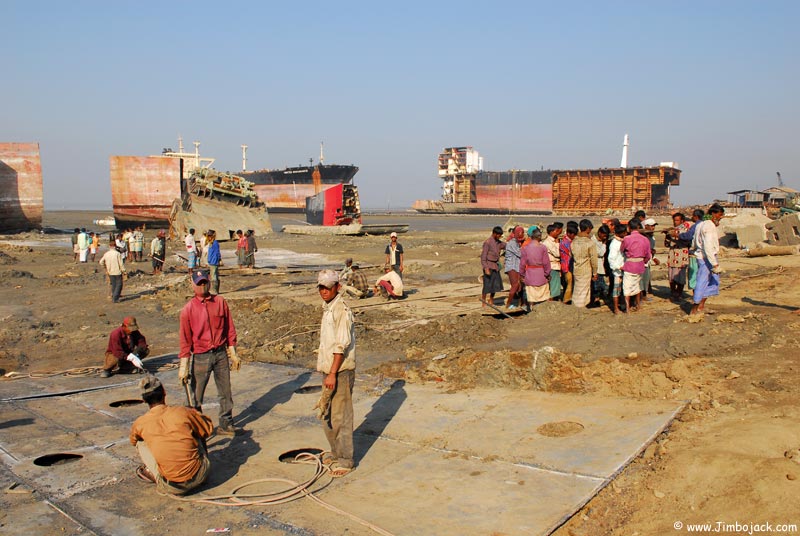 Various pieces of ships laying on the beach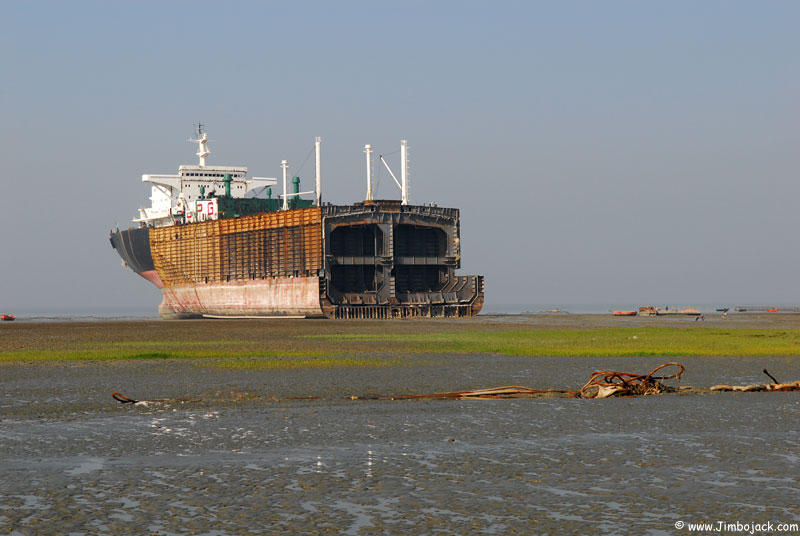 A bunch of kids started following me around when they saw me. As far as I saw they didn't actually work at the yards, but are probably children of some of the men working there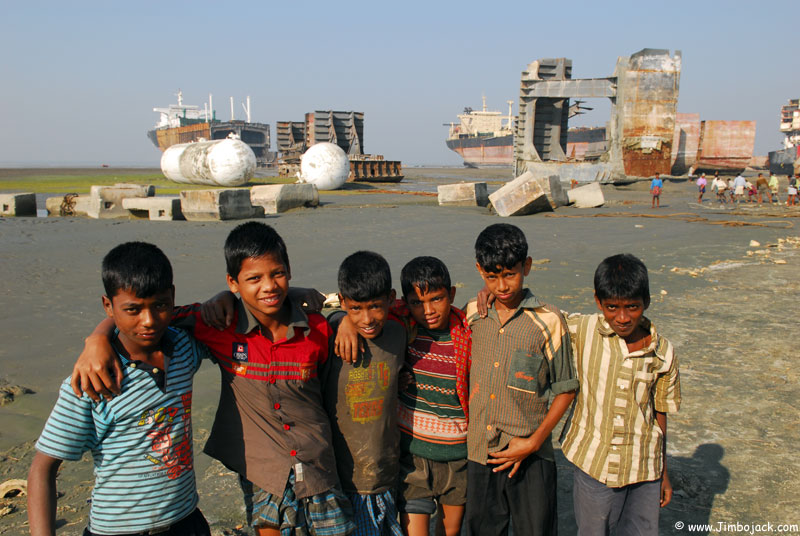 Since the tide was low, I was able to walk out towards one of the ships that was being cut into smaller pieces. As I was walking through knee high mud towards it I could feel something squirming underneath my feet every once in a while. At first I thought it was crabs, but whatever it was did not have a hard shell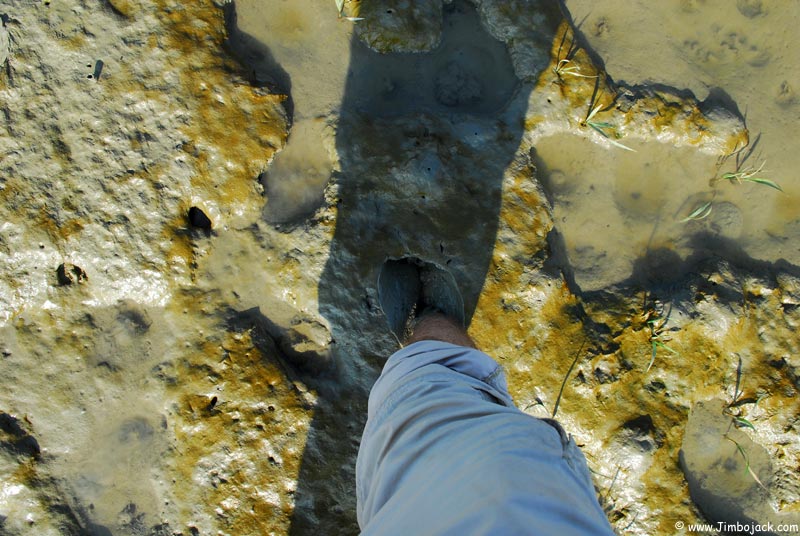 A a couple of minutes later the kids that were following me proudly showed me what it was that I was stepping on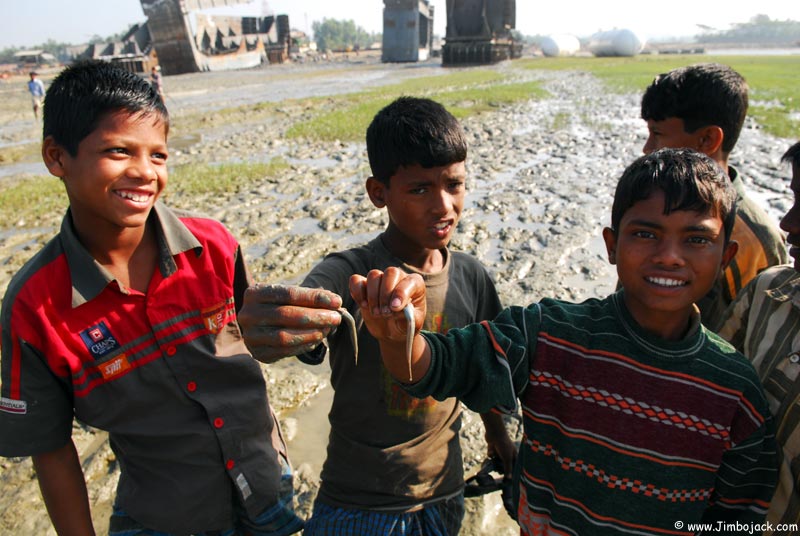 Once a piece of the hull gets cut off from the rest of the ship, it is pulled towards land by a wench using a very heavy, strong metal rope. It takes around 20 people just to carry that rope towards the ship so that it can be attached to whatever piece was cut off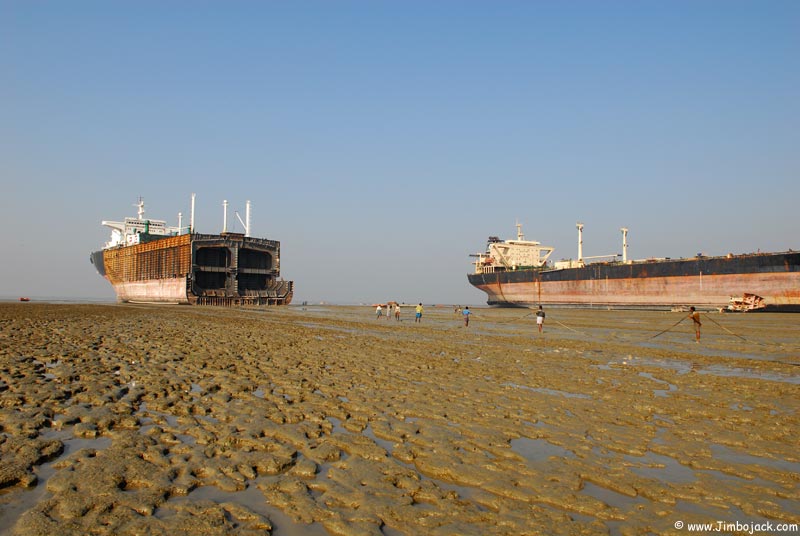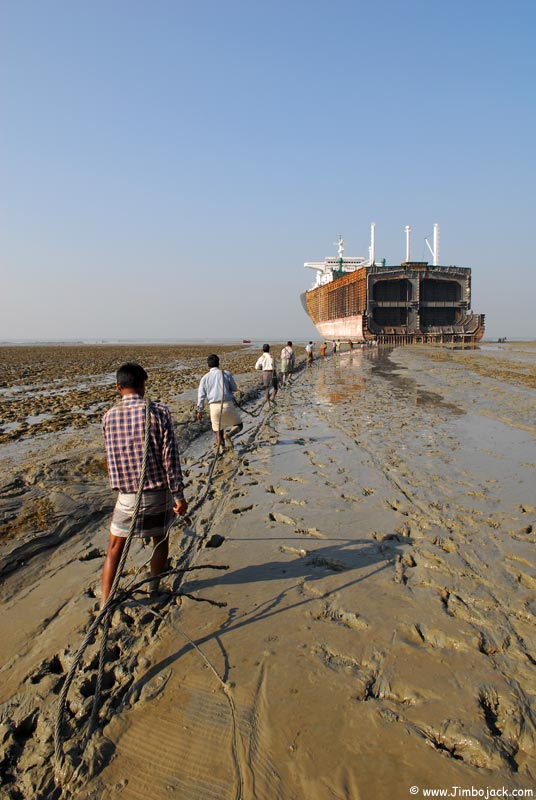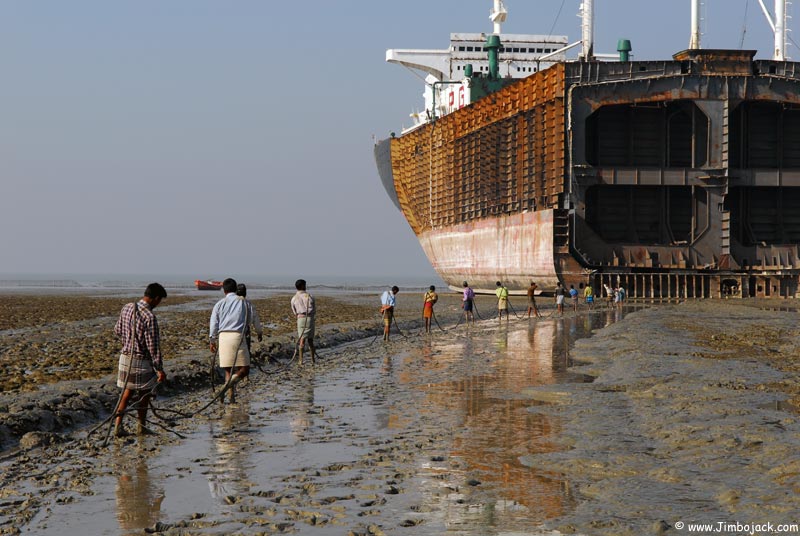 Piece of the hull being dragged inland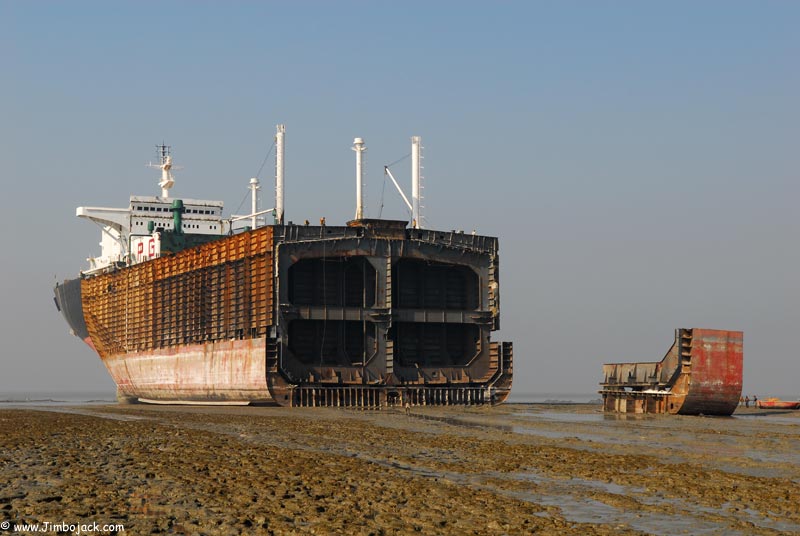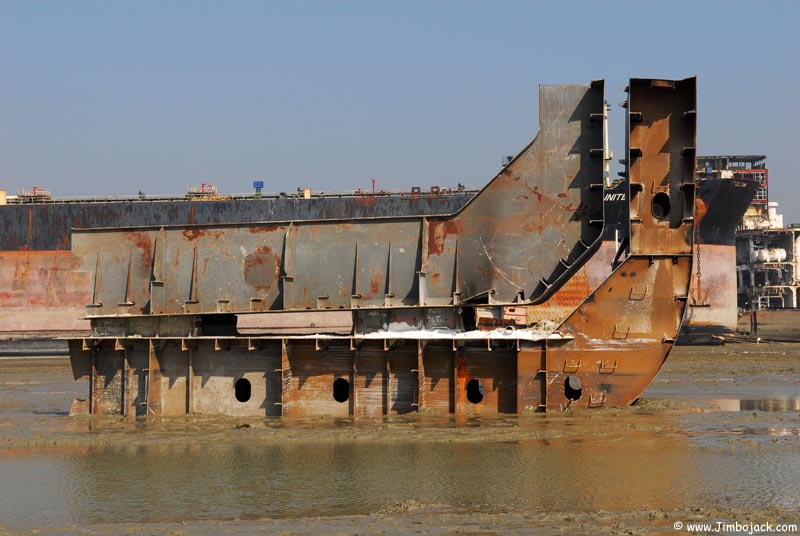 I decided to come up and see the ship up close, you can see how huge it is compared to the people that are standing in front of it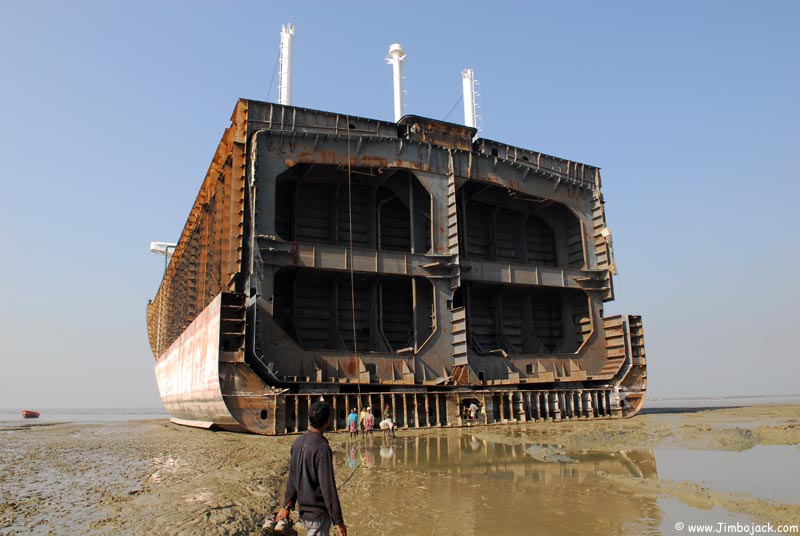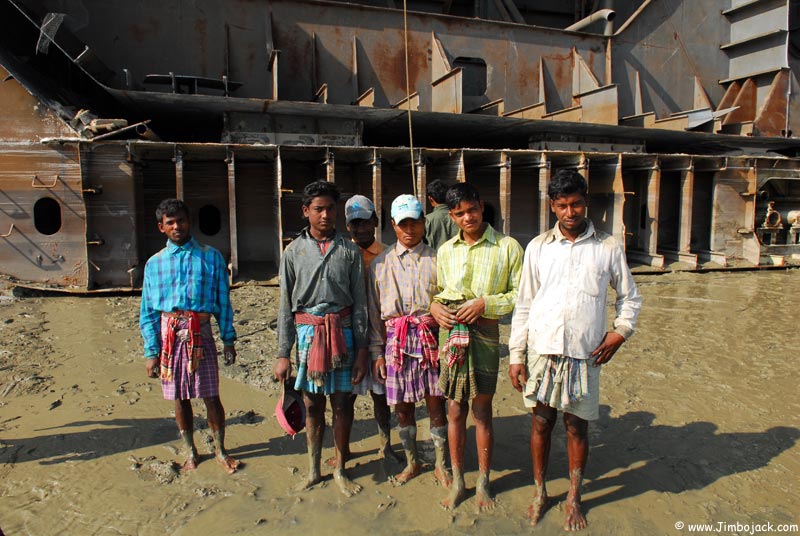 You can see the pipes cut along with the rest of the ship. Due to the almost non-existent environmental regulations in Bangladesh, people just cut and not worry about what happens to the oil, acids, asbestos and other dangerous substance that are contained in the pipes and ships. If there was oil on those pipes, it spilled on the beach and was taken away by the tide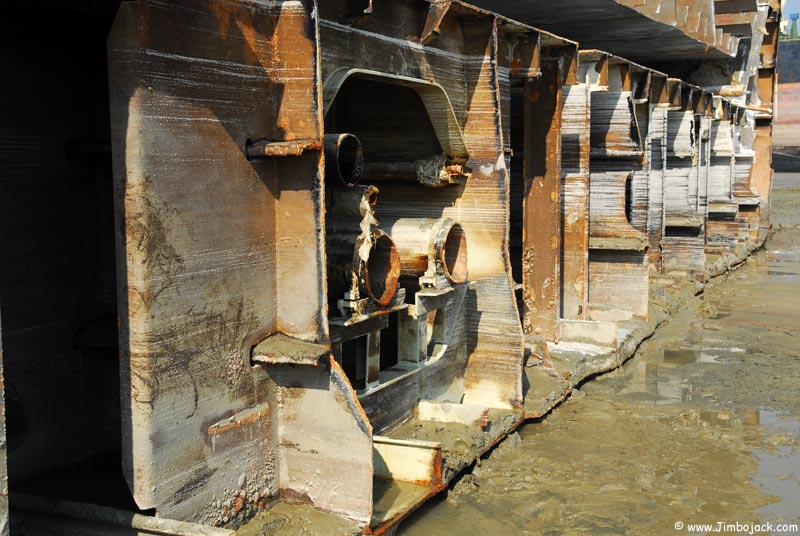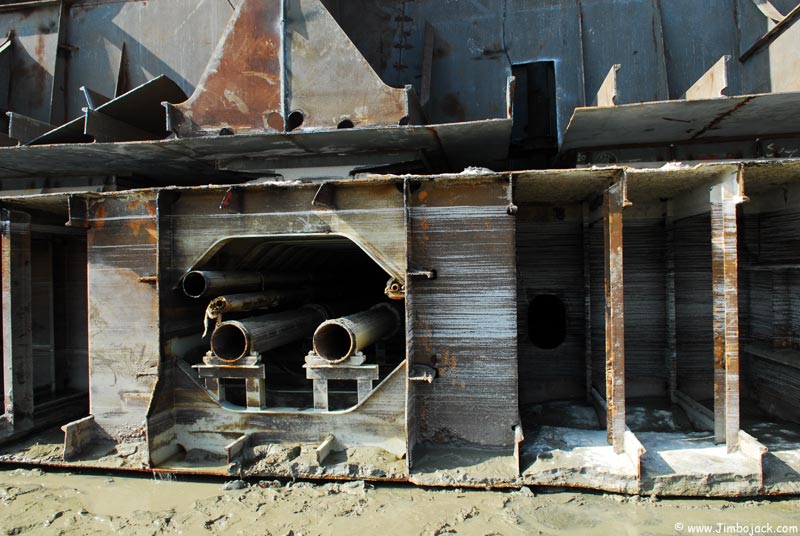 A makeshift ladder used by the workers to get to the top deck of the ship. I spent quite a bit of time trying to convince the worker in charge to let me go aboard and up to the top deck but he kept refusing. I can understand though, the last thing they need is a foreign tourist to fall from one of these ships breaking his neck. Somewhat disappointed, I started walking back towards land.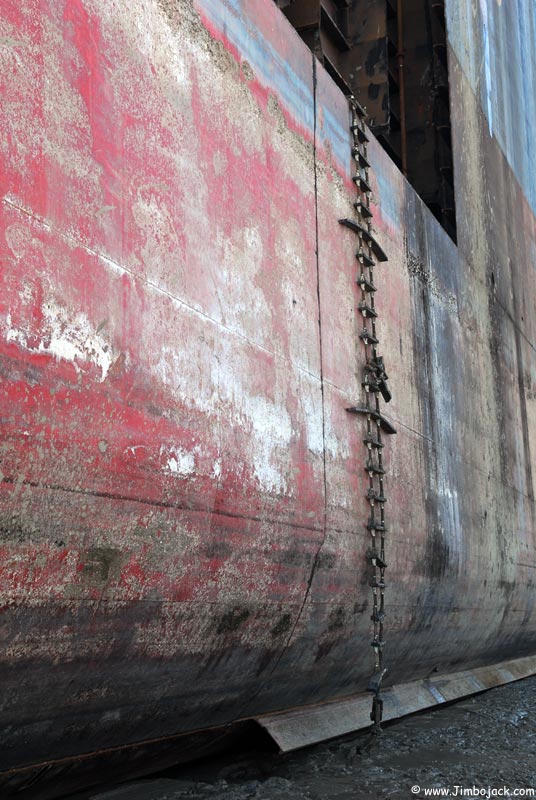 A rudder and a rescue boat from one of the ships, in the second photo a worker is washing his hands before eating lunch (you can see his silver food container on the rudder, to the right of him). You can also see how gigantic it is compared to him.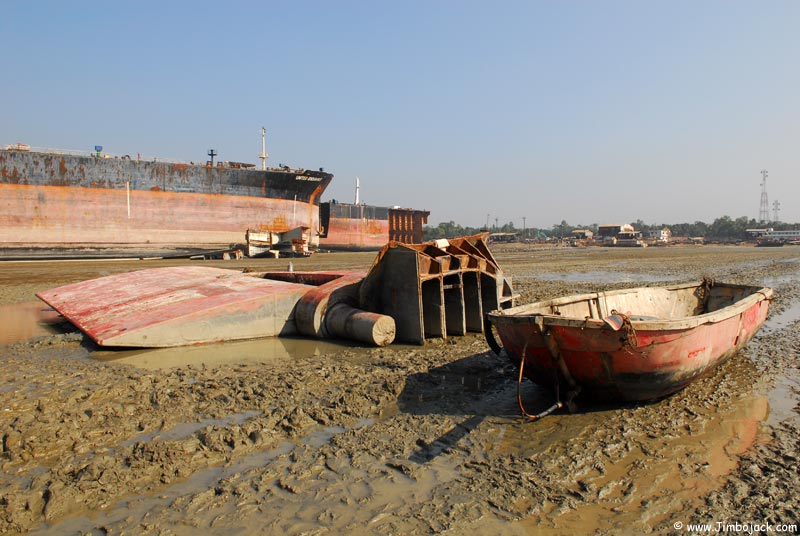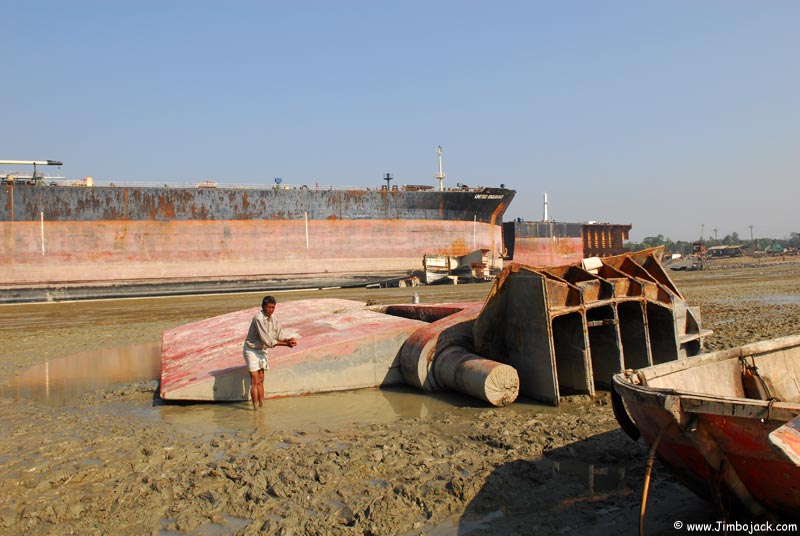 Another worker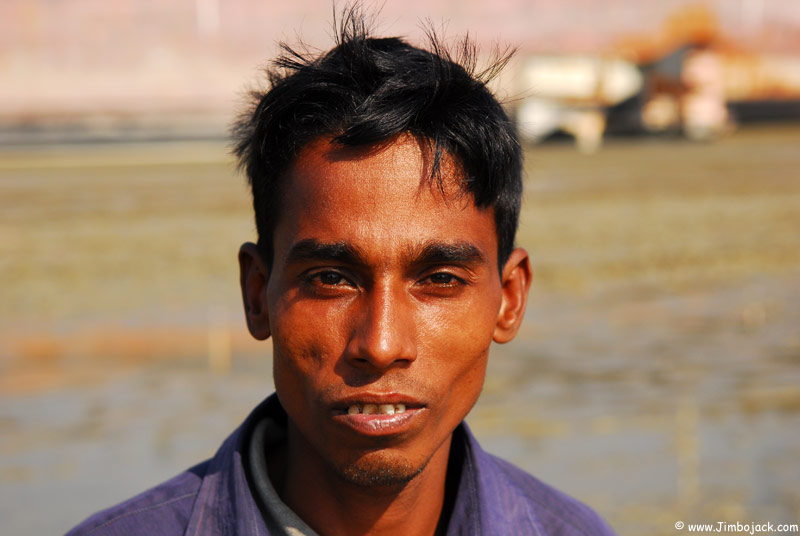 Here is the front of the ship United Endurance that I wrote about above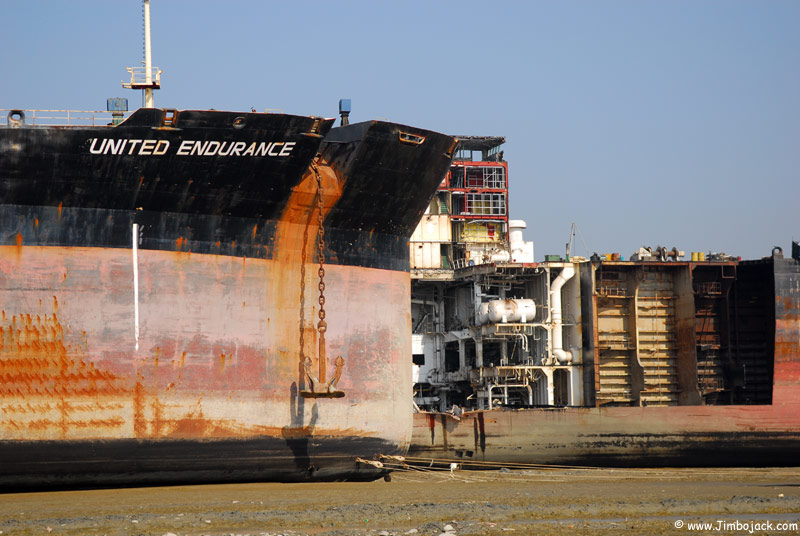 Small creek going under the bridge of the Chittagong-Dhaka highway. All these rescue boats are taken from the dismantled ships, people buy them and use them for various things. You can see these boats everywhere in Bangladesh, some have the tops completely cut off and are use to transports bricks, fish, wood, coconuts, etc. I saw a couple painted in wild colors with an added outboard motor and deck serving as tourist boats in the Sunderbans!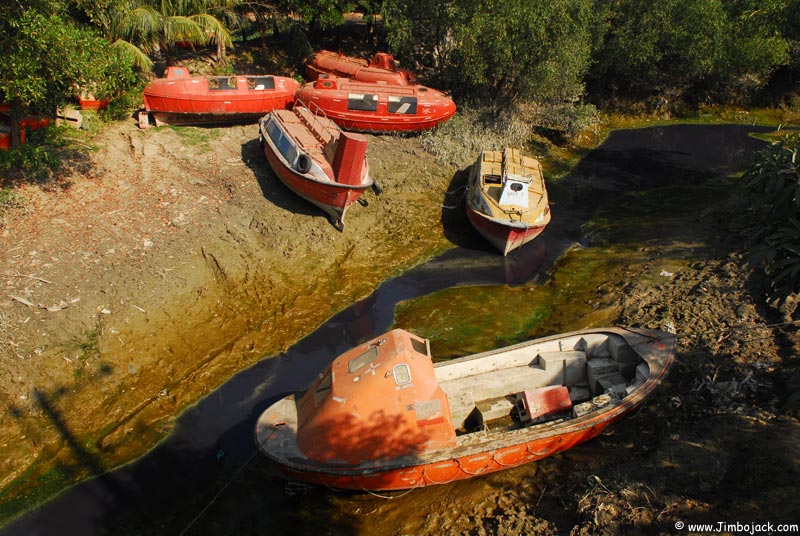 Driving along that highway, you can see many roadside shops selling all of the equipment taken off the ships. They sell boilers, diesel generators, engines, rescue boats, piles of asbestos, fuel cans, all kinds of pipes and anything else that might have been on a ship before it was decommissioned and sent here on its final voyage. (Sorry about the bad photos, I took them through a window of my bus)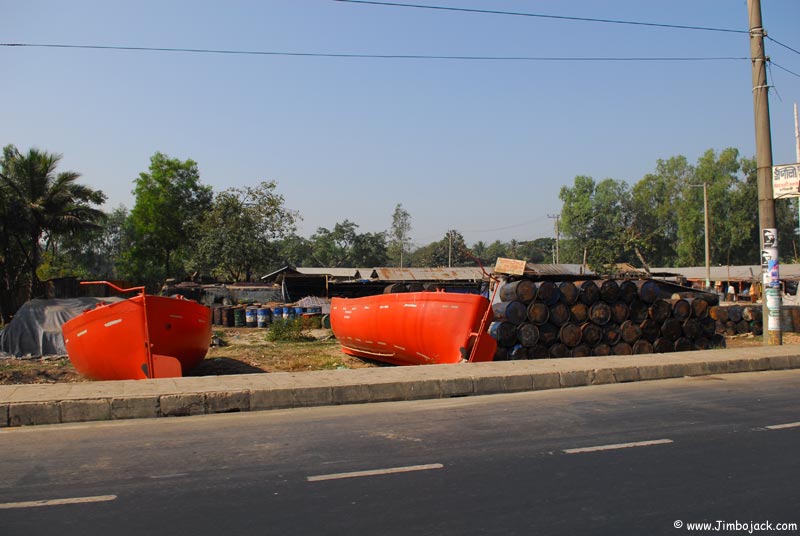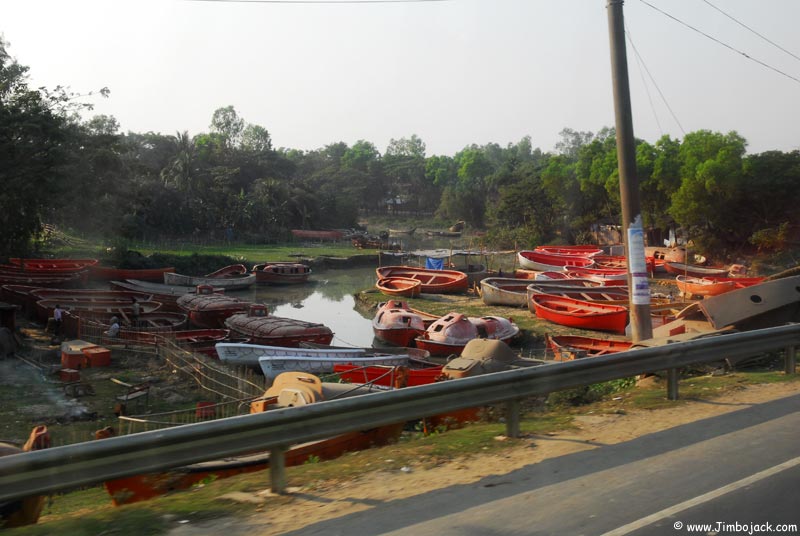 Once again I hope you enjoy this series of photos. If you would like to see more (55 photos from this series), you can find them on my page for the last trip located at:
http://jimbojack.com/South_Asia.htm
Phillip
Just back from Europe, Eastern Turkey, Iraq and Iran, new photos coming soon!
Over 100 Countries, thousands of pictures, one Website (being redesigned at the moment)
www.Jimbojack.com