Strathcona Wilderness Centre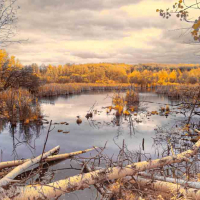 El Gato
Global Trekker
Registered Users
Posts: 741
Major grins
I originally posted this image as part of a multi-shot series in the Journeys thread. However, I thought that it may be more appropriate here. Sorry for any confusion and multiple posts.
This is an infra-red (IR) image taken with my color IR modified D300, at an unnamed pond within the Strathcona Wilderness Centre, east of Edmonton, Alberta [53.538205,-112.995129].
Beautiful fall day despite some cloud cover and occasional, light snow. Temps around -2C.
CC always welcomed