A Different View on the Colors of Fall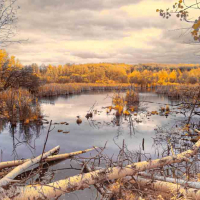 El Gato
Global Trekker
Registered Users
Posts: 732
Major grins
So…before the year ends and we are all looking to a much brighter and happier New Year, I wanted to post a small project I have been attempting to finish since September…the daytime job, even virtually, continues to take up an awful lot of time, leaving little time left in the day to work on "fun projects."
Traveling around the mid-west (or really any agriculture area) the bright blue sky, green hedgerows, the reds and yellows, the colors of fall take on a slightly different meaning.
While taking the photos for this little project I spoke with many very interesting, friendly and knowledgeable farmers and saw some pieces of machinery that I had never seen before. Some of these farm implements are downright scary…now I know why a lot of those Hollywood "B" horror movies take place on farms and in fields!
Thanks for indulging me in this little project and presenting here the colors of fall, from a slightly different perspective.
Nbr 1

Nbr 2

Nbr 3

Nbr 4